You know how we have this addition being built, right? Well now the re-decorating bug has bit me... plus the crafting bug. So I am going to start posting some of my "projects" since I can't get into the addition yet. OH yeah I haven't shared the latest in our series of adventures or should that be our mis-adventures. Remember the gorgeous flooring I was telling you about... well it came in early!! And our contractor picked it up. And I took a look at it later in the day and.... it was the WRONG flooring. So we called Lowe's and apparently the company (Pergo or possibly Lowe's) shipped out the WRONG flooring. So now we are waiting for it to come in which means it has to sit in the house for ANOTHER 48 hours once it arrives which means it will be NEXT week before the project is done. I am trying to stay calm... and have succeeded so far. But if I have to listen to the painter's music another hour I might scream.... its not loud or even bad but its not my taste. In fact I rarely play music because I like the sound of silence. I know crazy, huh?!? But what can I say, give the sound of the wind whistling or the birds chirping and I am one happy girl. Or for that matter the sound of the ocean breaking on the beach or rocks plus the sound of gulls screaming, the smell of brine, wild roses and wild beach plums... far better than any artificial fragrance known to mankind. The more you see of our home the more you will see what inspires me, God's creation, more specifically the ocean.
Do you see my lovely lady?
I got her at a friend's yard sale about 10 years ago and she got her at a yard sale about 20 years prior to that from 2 lovely sisters who were cleaning out the old family estate.
This little lady had been in their family for a good 40 to 50 years!
Time has not been kind to her or more accurately the movers have not been good to her.
So I knew it was time for a little updating...
Here she sits now waiting her new handles and a bit more polish on her dainty feet
(plus another coat of paint)
(edited: I forgot to mention I ran out of paint prior to getting the legs and interior done... so it will be off to pick up more paint either later tonight or tomorrow! Thanks Gail for catching that!)
See what I mean about my love of the sea and all its glory! Do you see the picture hanging above my desk? Well I bought it while in college from a little gallery owned by an acquaintance.
It's a coastal village in France.
My dream (the coastal village but necessarily in France.)
When I look at it I can hear the cry of the gulls, smell the savory brine of fish and warm coastal breezes, taste the salt on my lips, and almost feel the sun warming my skin.
But for now I am content to dream and to linger in the faint memories of my early childhood.
And now for the final reveal....
Isn't she the sweetest thing around?!
And do you know what's crazy???
I've been trying to convince my
husband
that she would look great painted like this for the past couple of years. (let's just say we agreed to disagree on the matter so I decided to bide my time....)
Now he
LOVES
this desk when before he merely
liked
her.
(and I see versions of her popping up all over the internet! Apparently I wasn't the only one who thought she would look adorable with a bit of a make-over!)
Linked to: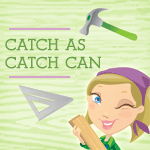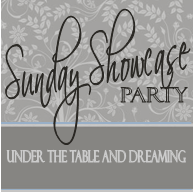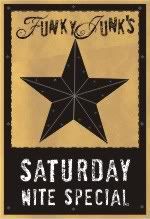 I was caught: