This year I participated in the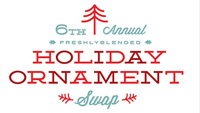 Well the pieced Christmas tree ornaments are

completed

!
Do you remember when I showed them to you here?
I just had to show you a few of the completed ones!
Do you see the adorable Canary yellow rickrack with the metallic zigzag running through it? Well....
You know that I really like a bargain, right? We are all on the same page here, yes? Well last summer I found a cute little plastic 1950's basket/tray... for $.25 and..........it was filled with notions.
1950's
to
1970's
sewing notions!! seam binding, unopened packets of rickrack, buttons, zippers, needle threaders, snaps, etc. And in that sweet little basket was not one but TWO unopened packages of Canary Rick Rack.
(This is the actual label!)
Okay now that we have gone down that rabbit trail.... I really don't know the purpose but I just had to share. I mean its not every day you find unopened packages of 19 cent rickrack and its definitely not everyday you end up having a use for said rickrack. Yeppers, I was tickled pink! Still am for that matter. And do you know what? I still have a package of pink metallic rickrack! I am thinking my niece might enjoy a pieced Christmas tree with pink metallic rickrack because you know she is all about the bling. :)
Have a great day!
Linked up to: